Today, it is my pleasure to show you an altered nook book box that I created for the Tresors De Luxe Etsy Shop! I created it using Graphic 45's Nutcracker Sweet line and lots of those gorgeous Tresors laces and flowers.
I started with a little box that I painted first with gesso, then with Jacquard paint, then a layer of crackle, then a layer of acrylic paint. I then walnut stained on top of that to create a worn aged look.
I painted an old cabinet handle that I found in my junk drawer, and added it to the spine of the book.
Here is a shot of all the dimension and crackle.
The front is covered in layers of distressed and inked papers and combo stickers, then I layered on two different laces one at the top and one at the bottom.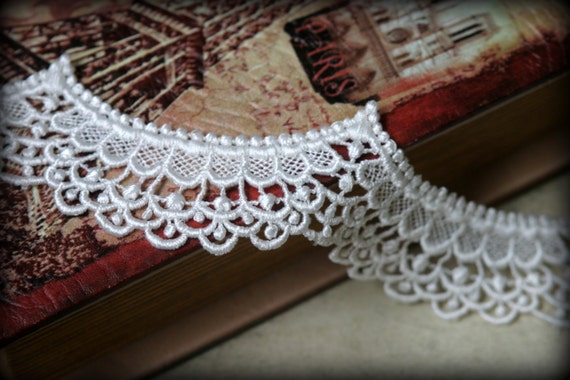 The resin window is a Prima piece layered with G45 paper, and I fussy cut out the Nutcracker banner, Clara and the clock, accenting them with glitter paints, and glazing the face of the clock so that it looks like glass. The handle is a G45 Metal piece, and the I added a mulberry paper rose, and lots of those little fabric roses from Tresors, as well has some hand stamped and fussy cut leaves.

Here is the inside of the book with all the little "nooks" that I just love to do!
On the left, I layered on distressed and inked G45 paper and more of those delicious Tresors Laces. I fussy cut out the Nutcracker and glitter painted accents on him. The little sign is a G45 sticker accented with Jingle bells, and I repeated some of the flowers from the outside.

I created some little Sugar Plum Fairy Nooks. This one is some G45 paper layered with some of that amazing dangly Tresors lace, a fussy cut fairy with glittered up wings and tutu and a little Tresors Fabric rose.
The other side is layers of G45 papers and a Tresors Fabric Rose.
I created the look of a stage here with G45 papers and a sticker header, Tresors Lace and fussy cut pieces accented with glitter paints.
And here is a shot of the back of the book.
Tresors De Luxe makes creating something special for Christmas or any Holiday so much fun!! I love all the versatile looks you can get from the products, especially this Vintage Christmas look. I encourage you to stop by the Etsy Shop and check out all the new items that Lucy has been adding. There are some gorgeous rhinestone brooches and buttons, more new laces and trims, lots of different sizes and styles of flowers, plus some sweet little birds, bees and sprays, that are so perfect for making your projects~something special!
If you stop in to shop, don't forget to mention that I sent you and you will receive a sweet little early Christmas present for yourself~ Hugs ~ Renea